In Sioux Falls Invisalign is Clearly the Right Choice
Have you ever wished for a straighter, healthier smile, but did not looked forward to all the metal wires and bands that often go along with braces? At Journey Orthodontics we can make your dream of having a new smile come to life. With aligners, we offer adults and teens a "clearly" effective and incredibly comfortable way to progress through orthodontic treatment! To learn more about Invisalign or our in-house clear aligners contact our office today to schedule your complimentary Invisalign evaluation.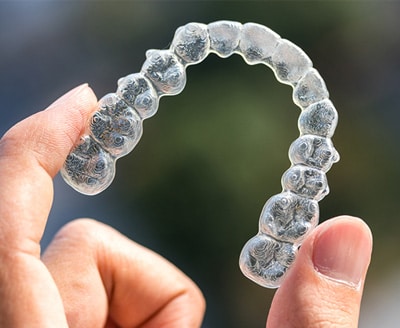 What is Invisalign?
Invisalign use a series of customized, clear aligners to straighten teeth. Many orthodontists in the United States use Invisalign as an alternative to braces to accurately and effectively treat their teen and adult patients. Benefits of Invisalign:
Aligners cannot be seen while wearing them! Friends, family members and co-workers may never even know you are undergoing orthodontics, unless you tell them!
The aligners are made from a special plastic that has smooth, rounded edges so they won't irritate your mouth and tissues like traditional braces often can.
Unlike traditional metal braces, you can remove your aligners to eat, drink, brush your teeth, floss and for special occasions. There's no need to change your lifestyle!
You will begin to notice a big difference even before your treatment is complete! Average treatment time is 12-14 months; however this can vary from patient to patient.
Your aligners are customized to fit your smile. Dr. Hohlen and Dr. Tewes use advanced 3D computer imaging technology to replicate an exact impression of your mouth and teeth, then they customize each aligner so that it fits your teeth, and over time each aligner slowly moves your teeth into the proper position.
Improving your smile is a great investment in yourself.
Invisalign can help straighten your teeth and give you a confident smile.
The cost of Invisalign depends on how severe your teeth issues are, how long the treatment will last and the doctor's prescription.
We want to make Invisalign affordable to everyone with low payment options, free extended monthly payments, credit card payments, and various payment arrangements.
Check with your dental insurance to determine if they cover Invisalign.
How Does Invisalign Work for Teens and Adults?
When you begin your clear aligner treatment you will receive several sets of custom fit aligners. Each set of aligners is worn for only one week. After one week you can switch your aligners with the next set and continue straightening your teeth. Over time you will notice changes in the alignment of your teeth and in just a few months you will have a straighter, healthier smile!
Contact us for a FREE consultation to find out if Invisalign is the right option for you.